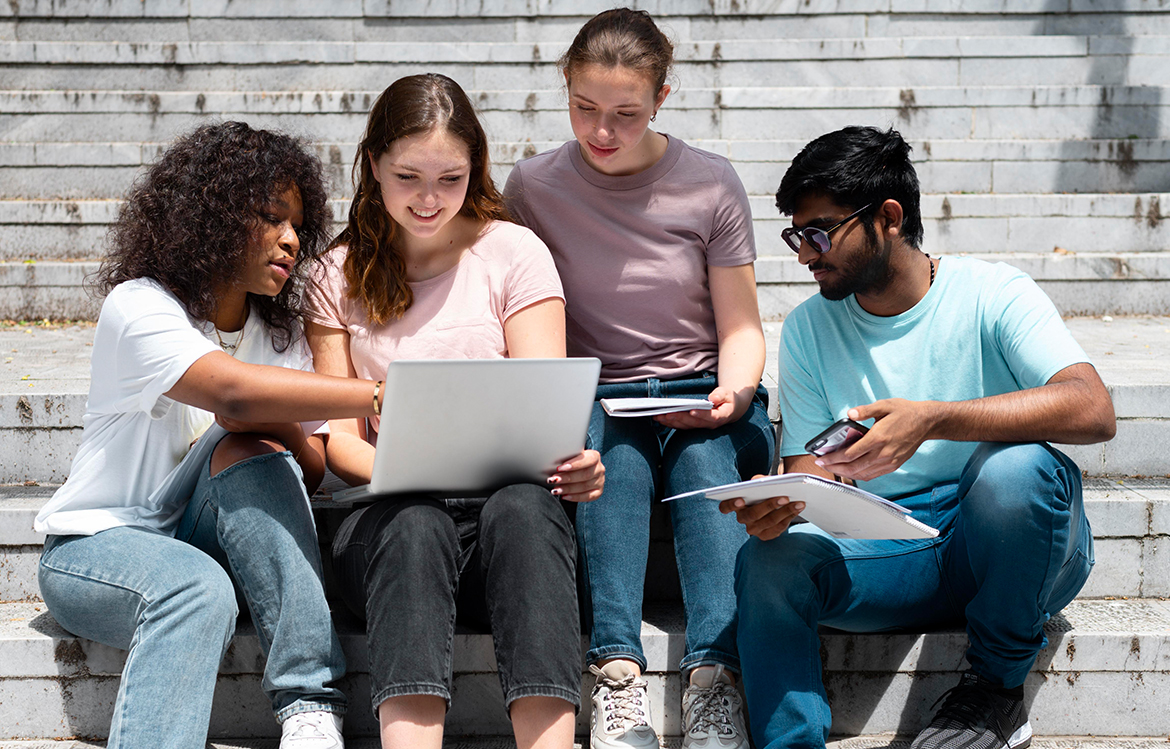 STUDY IN CANADA
Are you looking for an unforgettable experience of a lifetime? Studying in Canada can be an exciting opportunity for you to experience life – and lessons – beyond your front door. Canada's high academic standards and rigorous quality controls mean that you will be earning a high-quality education that will open doors for your future and benefit your career over the long term. A Canadian degree, diploma or certificate is globally recognized as being equivalent to those obtained from the United States or Commonwealth countries. The quality of education and living standards in Canada are amongst the highest in the world, but the cost of living and tuition fees for international students are generally lower than in other countries such as the United States and the United Kingdom. As such, Canada is often the preferred choice for students attending college or university. Since research is one of the key components of a Canadian post-secondary education, you will have ample opportunity to become a part of this vibrant aspect of education.
The Canadian educational system encourages cross-disciplinary studies and the development of transferable skills (e.g., critical thinking, teamwork, and communications) and uses cutting-edge technology and digital media. Under Canada's highly dynamic and hands-on academic environment, you will not only acquire knowledge and skills in analysis and communication, but you will also learn how to express yourself, demonstrate your creativity, and develop your self-confidence! Teachers and professors are always available and eager to help with lessons, and studies fuse academic excellence with interaction and collaboration in the classroom.
Benefits of Studying in Canada
While studying in Canada, International Students in Canada may also
Work for up to 20 hours per week while in school/college/university, and on a full-time basis during breaks.
Obtain a Post-Graduation Work Permit (PGWP) for the equivalent duration of the studies once the program is successfully completed. PGWP also called an Open Work Permit allows an individual to work with any employer and anywhere in Canada.
Bring an accompanying spouse or common-law partner to Canada on an open work permit, allowing him/her to work for any employer.
Bring accompanying minor children to study in Canada at the same rate that Canadians pay.
Become eligible for Canadian permanent residence, either through a Provincial Nominee Program (PNP), Quebec's immigration system or through the Express Entry immigration selection system.
CANADIAN Study In Canada STEPS
You must first meet the selection criteria of one of the four programs.
The second step is to have the proof that you meet the requirements of these programs. Your language test results, educational credential evaluations, and your reference letters from your previous employers confirming your past work experience, must all be in the format required by CIC.
Once an application has been completed you will be ranked according to CIC's new Comprehensive Ranking System (CRS). If your application is inaccurate you will be found guilty of misrepresentation and be barred from entering Canada for 5 years.
The new Comprehensive Ranking System is based on a 1200 point ranking system which takes into account your personal characteristics and skills transferability factors. All candidates will then be ranked against each other. The most highly weighted factors are securing a validated job offer from a Canadian employer with a Labour Market Impact Assessment (LMIA) or a Nomination Certificate from a Canadian Provincial or Territorial Immigration Office.
CANADA CONSULTATION SERVICE
Book Now with us to assess whether your CRS score is likely to trigger an invitation to apply for permanent residence. Our Canadian Study In Canada Consultation Service includes:
Determination of your best economic category (FSWP, FSTP, CEC, PNP) and its points assessment.
Estimate of your Comprehensive Ranking System (CRS) Score
Estimate of your rank via-a-vis other applicants
Strategies to increase your CRS score
Your prospects of obtaining an ITA based on your assessed CRS Score.
Ensuring that you have ALL of the necessary supporting documents before you apply.Review of other immigrant and non-immigrant programs if you do not qualify for one of the 4 programs.
Written summary of all of the above and a recommended plan of action moving forward.If you have received an ITA we can review your initial submission and prepare your electronic permanent residence application.
---